K1 Cellar Door
Adelaide Hills, South Australia
A visit to K1 begins the moment you turn in to the drive, as you follow the steep avenue of trees that perfectly frames 'The Lakehouse', home to the stunning K1 Cellar Door.
You would be forgiven for thinking you had arrived in the Swiss Alps or the Canadian Rockies, as you sweep left around the man-made lake that gives the Cellar Door its name. And if you should be lucky enough to visit during the Autumn months, you will marvel at the many hues of the trees that encircle the entire Adelaide Hills vineyard.
Needless to say Geoff Hardy is a man who knows how to make an entrance. His passion for the Adelaide Hills and the Kuitpo region began in the early 1980s, founding K1 in 1986. Ever since, he has poured every minute into making the K1 vineyard what you see today, much of it with his own bare hands.
And when you pour this much love into a place like this, you can only imagine the level of work that goes in to the premium Adelaide Hills Wines that are produced from such a pristine cool-climate vineyard.
And the K1 Cellar Door is the ideal place to discover these amazing wines for yourself, while you drink in the tranquillity and mesmerising Adelaide Hills landscape from the deck, or ensconced in the 'The Lakehouse' itself, alongside platters of delicious local produce.  
So don't wait, plan your visit to K1 Vineyard today and experience this spectacular Adelaide Hills winery for yourself!
As all tastings are currently seated, bookings are essential.
We are a Dog Friendly venue, there is plenty of room on the deck or under the birch trees for your furry companions. Dogs must stay on leash at all times. Weather dependent.
For more information, please call us on (08) 8388 3700.


Please Note: For those interested in doing a photoshoot please fill out an enquiry form on the Weddings at K1 page. See terms and conditions there.
Please note: There is no restaurant on site at our K1 Cellar Door.
Same day bookings after 11am, Ringing cellar door is essential to make sure we can accommodate you.
Wine Tasting - Groups less than 10 people
For groups of less than 10 people we offer a Wine Flight tasting experience for $10 per person. Purchase 3 bottles to redeem your tasting flight cost.
Please note – 1.5 hour time limit applies for all tables at this stage. 
Book Now
Group Wine Tasting bookings – 10-15 people
For groups of 10-15 people bookings are essential to ensure that we can adequately accommodate you and our other guests, and to ensure you experience K1 at its absolute best. Currently we cannot accept groups larger than 15 people. Booking times are 1.5 hours per group. Please be puntctual to avoid reducing your time here.
Groups of 10-15 have two options to choose from.
Option 1: Wine Tasting Flight for $15 pp, payable upfront to secure the booking.
Book Now
Option 2: Wines by the Bottle or Glass (no tasting flight). This option is great for those wanting a more informal experience and the chance to just catch up with friends while enjoying some good wines. A $10 deposit per person is required upfront to secure the booking.
For both options cheese platters can be purchased on the day of your visit at an extra cost.
Groups will be seated outside at our picnic tables under the birch trees, or in the case of bad weather we may seat you upstairs in our functions space.
Book Now
Groups 15+
For groups larger than 15 people, please ring the cellar door and enquire. We will do our best to accomodate you.
Barrel Deck 10-20pp
For groups 10 - 20 persons looking for your own space, we suggest our Barrel Deck adjacent to cellar door.
The barrel deck can be booked separately by calling the K1 cellar door at  (08) 8388 3700  or emailing us at  events@k1wines.com.au
Public Holiday Surcharge
A 15% surcharge on all food and glasses of wine consumed on property applies on Public Holidays. All takeaway wines are exempt from surcharge.
Cheese Platters
We have a selection of cheeses and other items available for purchase if you want to build your own platter at the cellar door.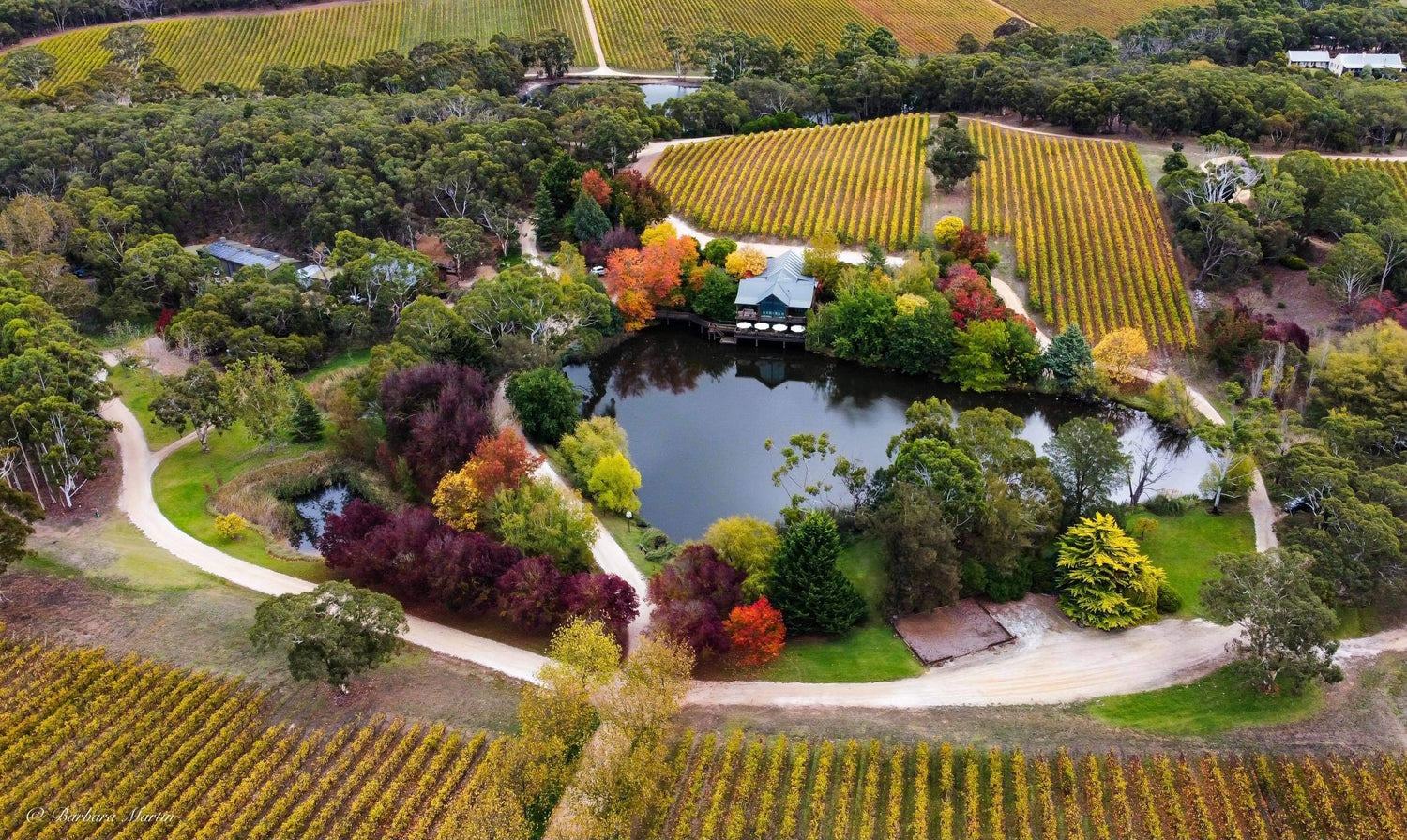 Opening Times
Monday - Sunday & Public Holidays: Open 11am to 4pm.
Closed:
Christmas Day & New Years Day
Cellar Door: 159 Tynan Road, Kuitpo, SA 5172
Post: PO Box 3, Clarendon, SA 5157
Phone: +61 8 8388 3700